Part of our in-depth series exploring Southern Early American Forts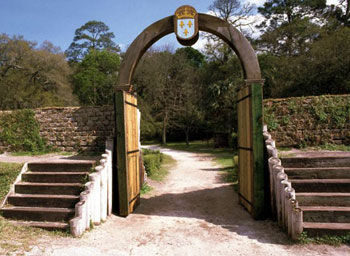 Fort Caroline National Memorial
12713 Fort Caroline Road
Jacksonville, FL 32225
Phone: 904-641-7155
Fort Caroline National Memorial was created to memorialize the Sixteenth Century French effort to establish a permanent colony in Florida. After initial exploration in 1562, the French established "la Caroline" in June 1564. Spanish forces arrived 15 months later. Marching north from their newly established beachhead (San Augustin) they captured la Caroline in September, 1565. Nothing remains of the original Fort de la Caroline; a near full-scale rendering of the fort, together with exhibits in the visitor center, provide information on the history of the French colony, their interaction with the native Timucua, and the colonists' brief struggle for survival.
Operating Hours & Seasons
The visitor center and grounds are open 9:00 a.m. to 5:00 p.m. daily; closed December 25, Thanksgiving, and New Years Day.
Public Transportation
There is no public transportation to Fort Caroline National Memorial.
Getting Around
Private vehicles are required to reach the four main sites which comprise the Fort Caroline National Memorial.
Communities and Related Links