Captain John Williams and Ed King
October 14, 1861, Capt. John Williams and his cowhands were gathering cattle for the Confederate army. While scouting in the northern part of Llano County near the Llano-San Saba County line and passing through Babyhead Gap, Capt. Williams became separated from his men. The Indians then came rushing off of the mountain and made a charge. Ned, David and John Truman successfully made their escape, but Ed King, riding a mule, was being killed. So Capt. John Williams rushed to his relief, but he too, was soon killed and scalped. Capt. Williams, at the time, lived near the present town of Cherokee.
The above story is from the book, The West Texas Frontier, by Joseph Carroll McConnell.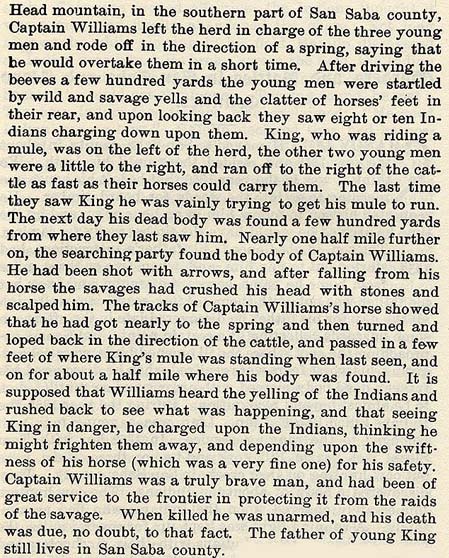 The above story is from Indian Depredations in Texas by J.W. Wilbarger.