| | |
| --- | --- |
| Prickett's Fort | |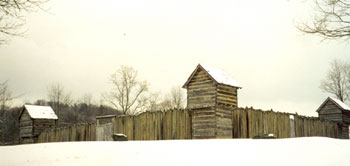 Prickett's Fort
CR-72, Uninc Marion County
West Virginia
Phone: 1-800-CALL-WVA
E-mail: info@prickettsfort.org
Pricketts Fort State Park is a day-use historical and recreational park, located just north of Fairmont, West Virginia, two miles off Interstate 79 at Exit 139. The original fort was built at the confluence of Pricketts Creek and the Monongahela River in 1774, and provided a place of refuge from Indian attack for early settlers to the area. Now a state park, the site also includes the Job Prickett House, circa 1859, listed on the National Register of Historical Places. Both the reconstructed fort and the Job Prickett House are open for public tours from mid-April to November, with a living history style interpretation. Visitors enjoy seeing costumed artisans at work weaving, blacksmithing, cooking, and building muzzleloader firearms. A dozen or more special events are conducted annually.

Other recreational facilities at Pricketts Fort include picnic areas, trails, fishing, and a boat launching ramp. A Visitor Center includes a museum shop, and exhibit gallery.

The Visitor Center, the historical interpretation program, and all special events are managed by the Pricketts Fort Memorial Foundation, under long-term contract with the state.
The Fort
The Fort covers a 110 by 110 foot square, with 12-foot-high log walls and blockhouses at each corner. Lining the weathered stockade walls are 14 tiny cabins, some with earthen floors. A meetinghouse and a storehouse fill the common. When the threat of Native American uprisings occurred, up to 80 families from the surrounding countryside would hurry to the Fort. They would stay as long as the threat existed, from days to weeks. "Forting up" was simply tolerated by settlers. Life in the cramped quarters could be unpleasant, but such sacrifices were necessary for survival on the dangerous frontier of the late 1700s. Today's Fort still speaks eloquently of that life and time.
The Job Prickett House
Just south of the Fort stands the Job Prickett House, built in 1859 by the great-grandson of Capt. Jacob Prickett, for whom the Fort was named. The difference between the 18th century historical reconstruction and the original 19th century house illustrates the development of an increasingly civilized lifestyle and the availability of mass-produced furnishings through an 85-year span of time. The house is listed on the National Register of Historic Places and contains antiques originally used there by the Prickett family.
Hours of Operation
2009 Season is April 15 thru October 31
We are closed on Mondays and Tuesdays after Labor Day.
Monday thru Saturday 10 a.m. - 4:30 p.m. (Visitor Center & Ticket Sales 10 a.m. - 4 p.m.)
Sunday 12 p.m. - 4:30 p.m. (Visitor Center & Ticket Sales 12 p.m. - 4 p.m.)
Pricketts Fort Gift Shop , Orientation Gallery and Administrative Offices are open year round Monday thru Friday, 9 a.m. - 4 p.m.
Additional hours are announced as needed for special events.
Admission
Cost of admission covers all of the park's historical attractions including guided tours, specialized talks, orientation gallery, and craft demonstrations. See hours of operation and seasonal restrictions above.
Adults $6.00
Seniors (55+) $5.00
Youth (6-12) $3.00
Children 5 and under FREE
Members FREE
School Tours $4.00/student
$5.00/chaperone
(one free chaperone admission per each 10 students)
Communities and Related Links