Weatherford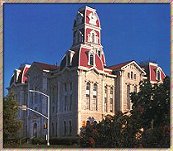 Weatherford has a particularly handsome courthouse, town square and an ancient graveyard that lies a few blocks northeast of the square. Goodnight's final resting place is honored by a large monument beneath the oldest and tallest oaks. About thirty paces west across the main entrance road is Bose Ikard's headstone.
Lonesome Dove fans would not want to miss seeing Goodnight's inscription which, like Woodrow Call's inscription for Josh Deets, recalls his brave service in many fights against the Comanche, and ends, "Splendid behavior." Below are other points of interest.
Holland Lake Park
A double log cabin museum in beautiful tree-shaded park with lovely old swimming pond & bath house. See and touch the bullet holes left by an Indian massacre still visible in the logs!
Estimated Tour Time: 20 minutes
National Champion Pecan Tree
The nation's largest pecan tree is just 3.6 miles n north of the Courthouse at 2721 North Main (Hwy. 51 N) It is on the property of Mr. & Mrs. Lynn & Billy Finch. The tree is said to be between 900 and 1100 years old and it takes over five people to reach around its trunk. For directions please stop by the Chamber of Commerce.
J. Brown Stagecoach Works
See stagecoaches & buggies still being built the old-fashioned way... right in Parker County! His stagecoaches have been seen in movies and TV series for over twenty years, such as "Maverick" and "Wild, Wild West."
Arranged by appointment only. $3.00 per person. Estimated Tour Time: 45 minutes
Kelly Graham's Studio
Visit Graham's sculptor studio and see his bronzes and clay models. Kelly is the sculptor of the life size version of a cutting horse located on the Weatherford-Parker County Chamber of Commerce lawn.