Graham
Brazos River Indian Reservation
SH 16 in Graham
In February 1854 the Texas legislature designated 12 Spanish leagues (or 53,136 acres) of land to be maintained as Indian reservations by the federal government. In August 1854, Major Robert S. Neighbors, United States supervising Indian agent, and Captain Randolph B. Marcy, of the United States Army, made surveys in both Spanish and American measurements; American dimensions were platted, totaling 69,120 acres. In the 8-league tract here in Young County-on either side of the Brazos River-were placed tribes of Anadarko, Caddo, Tehuacana, Tonkawa, Waco and others, together with splinter groups of the Cherokees, Choctaws, Delawares, Shawnees and some other remnants. The southern Comanches had their 4-league reservation about 45 miles to the west.

Under the guidance of United States agents, the Indians of the Brazos River Reservation made much progress in agriculture, stock raising and other arts of civilization. Drought and other adversities, however, led to closing of the reservations.

Emptied in 1859 when the Indians were removed to vicinity of present Anadarko, Oklahoma, lands of the reservation reverted to the state, and were opened to the pre-emption of Texas citizens in 1873.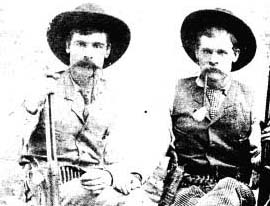 Marlow Brothers
Graham became the seat of the District Court that included most of Comancheria. It remained the center of power until vigilantism flared during the Marlow Brothers incident. Another John Wayne movie, "The Sons of Katie Elder," was based on that occurrence. Like the movie, there were originally four brothers. The two not pictured were killed in a shoot-out and are buried at a little cemetery just north of Hwy. 16 on Ranch Road 1191. The remaining brothers and their mother moved to Crested Butte where they were employed as sheriff's deputies. Eventually Texas Rangers were dispatched to bring the boys back to Texas for trial. The brothers and Rangers confronted each other at the train station where all shook left hands while their rights lingered above their pistol grips and remained so until they went to lunch at the brother's home where their mother insisted everyone disarm before eating. The Colorado governor's order arrived at the end of the meal, forbidding the Rangers from taking the boys back to Texas. For once, at least in this instance, the Rangers did not get their men.