Fort Fisher
The Hall of Fame and Museum complex is located in Fort Fisher Park adjacent to Interstate Highway 35 in Waco, Texas (midway between Dallas/Fort Worth and Austin).
In 1963, visionaries led by Waco residents Jimmy LeBlonde and Roger Conger, met to discuss founding a monument to a Texas and American legend. They formed an organization to raise funds and build a center to preserve and memorialize the history of the best known lawmen in the world-the Texas Rangers.
Funds were raised through donations and what the small central Texas town of Waco could find in its budget. In 1968, founders gathered by the banks of the Brazos River in Waco and dedicated the modest 1,600 square foot Col. Homer Garrison Texas Ranger Museum and the Headquarters Office for Texas Ranger Company F. Today, 30 years later, more than 2 million persons have visited. In 1976 a Hall of Fame was added to the complex and a small library, the beginning of a Texas Ranger Research Center, was made possible by the Moody Foundation of Galveston.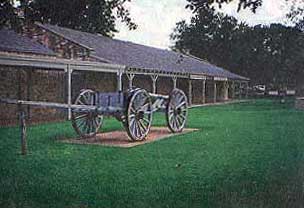 Photo from the Book, Texas Forts by Wayne Lease.
Waco is the most appropriate home for a complex honoring the Texas Rangers. It was founded on the site of an 1839 Ranger encampment and the townsite was later surveyed by Texas Ranger George B. Erath. To this day the Waco symbol (the Flying W) includes a Texas Ranger star.