Fort Sumner State Monument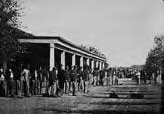 As more and more Americans settled in the territory of New Mexico, they met increasingly fierce resistance from the Mescalero Apache and Navajo people who fought to maintain control of their traditional lands and their way of life.
In an effort to subjugate them, the U.S. Army made war on the Apaches and Navajos. Those who survived these attacks were starved into submission and forced to march to the Bosque Redondo Indian Reservation in eastern New Mexico, in some cases a distance of more than 400 miles.By the end of 1864, some 9000 people were held captive at Fort Sumner and the surrounding Bosque Redondo Reservation. Conditions were awful, and many people died.
Most of the Mescalero Apaches eluded their military guards and abandoned the reservation on November 3, 1865; but, for the Navajos, another three years passed before the United States Government acknowledged Navajo sovereignty in the historic Treaty of 1868.
The Navajos began their joyful return home in June of 1868, and today the Navajo Nation is the largest Native American community in the United States.
Hours: 8:30 am - 5:00 pm, daily
Admission: $1 (children 16 and under free)
Location: 3 miles east of Fort Sumner on Hy. 60/84 and 3 1/2 miles south of Hy. 60 on Billy the Kid Road
Fort Sumner, NM 88119
Contact: Phone: (505) 355-2573
Address: P.O. Box 356
Fort Sumner, NM 88119-0356
Special Programs: Guided tours for organized groups of any size and living history demonstrations every weekend throughout the summer or by reservation year-round.
Handicap Accessible: Partial