Marker Title: Battleground Prairie
City: Seguin
County: Guadalupe
Year Marker Erected: 1936
Marker Location: From Seguin, take US 90A east five miles to Marker site.
Marker Text: Where 80 volunteers commanded by General Edward Burleson defeated Vicente Cordova and 75 Mexicans, Indians and Negroes, March 29, 1839, and drove them from Texas, ending the "Cordova Rebellion." 25 of the enemy were killed. Many volunteers were wounded, but none fatally.
| | | |
| --- | --- | --- |
| | | |
| Col. Edward Burleson | James Milford Day | James Wilson Nichols |
James Milford Day, pictured above, one of Guadalupe County's earliest settlers, was seriously wounded in a gun battle with Cordova's rebels on March 30, 1839.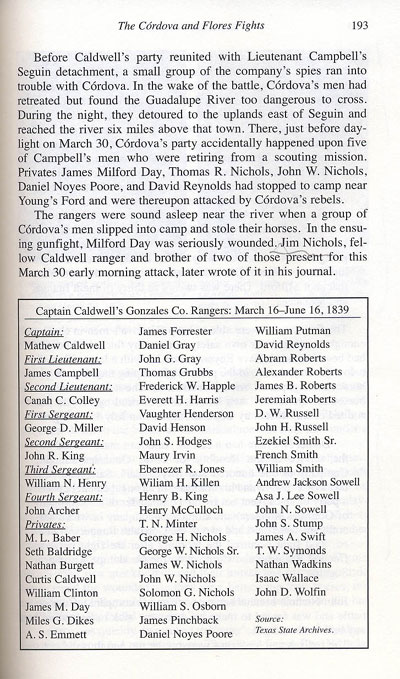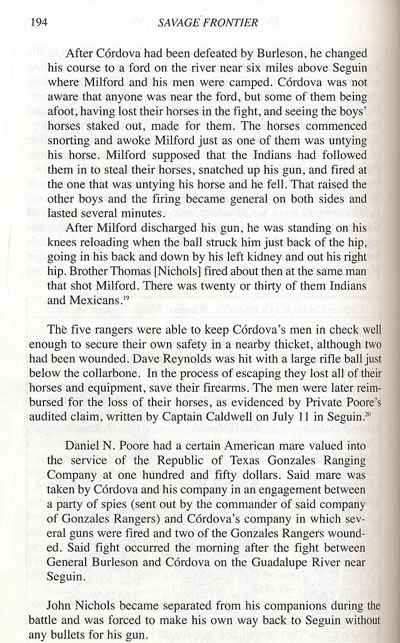 Ranger Jim Nichols, also above, wrote of Day's suffering:
We taken them home but Milford had a lingering hard and painful time before he recovered, and after he was thought to be well his hip rose and several pieces of bone worked out. Then for many years he had to undergo the same pain and suffering from his hip rising and pieces of slivered bones working out. He finally recovered after years of pain and suffering, but it made a cripple of him for life. But he is still living at this writing and limping around on one short leg and has seen as many ups and down since that time as any man of his age.
Marker Title: Colonel Nathaniel Benton
City: Seguin
County: Guadalupe
Year Marker Erected: 1936
Marker Location: In a small cemetery on the west side of Seguin. From US 90A turn north onto Prexy Drive, continue about 1/4 mile to marker.
Marker Text: Col. Nathaniel Benton, born in Tennessee 1814, came to Texas in 1835, served in the army, 1836, Texas Ranger, 1858, Confederate Officer, 1861, died in 1872. His wife, Jane Harris Benton, born in 1836, died in 1862. 1936.
Marker Title: Camp Clark, C.S.A.
City: Staples
County: Guadalupe
Year Marker Erected: 1964
Marker Location: On SH 621, in city park, Staples
Marker Text: Named for Edward Clark, first Confederate Governor of Texas, whose Executive Order June 8, 1861, created voluntary camps of instruction such as this. Food, camp facilities and guns were voluntary gifts by local people. Farmers, merchants, artisans, laborers gave goods and services. Men with military training and experience gave their time as drillmasters. This and 50 or 60 other camps of instruction mainly taught walking to Texans brought up with the habit of moving about on horseback. (6 out of 10 Texans joined the Cavalry. Governor Clark felt compelled to say in his Executive Order that infantry service was actually a matter of honor.) Operated despite scorn of 18 to 35 year old recruits who had fought Indians most of their lives and were impatient for battle-- not for training. Though neither Texas nor the Confederacy in 1861 had funds for camps of instruction, by 1862 privates were paid $11 a month, officers $50. This Guadalupe County camp of instruction was convenient to roads and to water. Area units that trained here included Co. D, 4th Texas Infantry, of Hood's famous Texas Brigade, and 4th Texas Cavalry (Partisan) under Captain William P. Hardeman. 1964.
Marker Title: Campbell Cabin
City: Seguin
County: Guadalupe
Year Marker Erected: 1982
Marker Location: 200 block East Liveoak, Seguin
Marker Text: John Campbell of Ireland, who migrated to Seguin before 1847, possibly built the first room of this log cabin about 1850. In 1851 he returned to his native country and persuaded several family members, including his brother Peter Campbell, to settle here also. A farmer and rancher, Peter lived in the cabin and later enlarged it to accommodate his growing family. The cabin was originally located southwest of Seguin and was the home of Campbell descendants until 1957. Moved to this site in 1979, it now serves as a reminder of the area's pioneer settlers. 1982
Marker Title: Site of Dietz Community
City: Seguin
County: Guadalupe
Year Marker Erected: 1978
Marker Location: From Seguin, take SH 46 7 miles to marker site.
Marker Text: In 1851 Jamaica native Jacob De Cordova (1808-1868) settled here. He selected this spot for its beauty, rich soil and nearby springs. He built his first home, "Wanderer's Retreat". It served as a stage stop on the San Antonio Road and as a mail delivery station. De Cordova, acting as a land agent, sold over 90,000 acres of Texas land including this site. Nine German bachelors purchased the property and it became known as "Bachelor's Hall" and "Nine Men's House". Two brothers, Ferdinand Michael and J. August Dietz, cowboys for De Cordova, bought out the other men and the community became "Dietz". Johann Phillip Stautzenberger (1838-1904) bought the land in 1861, built a substantial house and general store, and became the first postmaster. Formal education began in a small room adjacent to Stautzenberger's store with Frankfort School starting later. "The Frohsinn Maennerchor", a singing group, was organized in the schoolhouse. Later they adopted the present name of "Frohsinn Mixed Chorus of Clear Springs". In 1895 a group of farmers founded present-day Friedens Church in the school building. Consolidation of the schools, closing of the post office, and good roads and automobiles caused this early community to disappear. 1978
Marker Title: Guadalupe County
City: Seguin
County: Guadalupe
Year Marker Erected: 1936
Marker Location: At intersection of US 90 and US 90A, on west side of Seguin.
Marker Text: Guadalupe County; formed from Gonzales and Bexar counties; created March 30, 1846. Organized July 13,1846; named for the Guadalupe River, to which this name was given by Alonso De Leon in 1689; Seguin, the county seat named in honor of Juan Nepomuceno Seguin 1806-1890.
Marker Title: Guadalupe River
City: Seguin
County: Guadalupe
Year Marker Erected: 1969
Marker Location: At Starke Park, SH 123 on south edge of Seguin
Marker Text: One of the earliest explored rivers in Texas. Named for Our Lady of Guadalupe by Spaniard Alonso de Leon in 1689. During 1691-1693, Domingo Teran de Los Rios, Spanish Governor of Texas, maintained a colony on the Guadalupe. In early Anglo-American settlement, 30 or 40 families located along its bank, which formed a boundary of the Power-Hewetson Irish Colony. Near the mouth of the river, historic Victoria was founded, and 60 miles above was Gonzales, where the first shot for Texas freedom was fired, Oct. 2, 1835. The Guadalupe is 250 miles long. (1969)
Marker Title: Hardscramble
City: Seguin
County: Guadalupe
Year Marker Erected: 1936
Marker Location: From Seguin: US 90 west about 3 miles. Left on Tschoppe Road about 2 miles to property.
Marker Text: Home of Henry and Ben McCulloch, 1841-1853; of Nathaniel Benton, 1858; of Elijah V. Dale, 1871; famous Texas Rangers and veterans all of the Texas Revolution; bravery, skill and courage, were common attributes of men who dared the wilderness of Texas, but no patriots of Texas ever offered greater service than did the McCullochs, Benton and Dale.
Marker Title: Colonel John Ireland
City: Seguin
County: Guadalupe
Year Marker Erected: 1963
Marker Location: In Central Park, South River at Courthouse, Seguin
Marker Text: Star and Wreath Delegate to Secession Convention 1861. Joined army as private. Won laurels in that most brilliant wartime effort - the defense of the 800-mile Texas Coast. In September, 1862, repulse of Federals at Corpus Christi, Ireland captured Fleet Captain Kittredge, his flag and arms. Though Ireland was an infantry officer he once plunged waist-deep to capture a Federal vessel off Padre Island. At war's end he was in command of the 8th Texas Regiment defending Galveston. BACK: Kentucky-born. Came to Texas 1853. Mayor of Seguin 1858. Member Consititutional Conventions 1866, 1875. District Judge 1866-67, removed by Reconstruction authorities. Legislator 1872-75. Called "Ox-cart John" for opposing land grants, subsidies to railroads. Supervised plans to oust Governor E. J. Davis in bloodless conflict marking political end of Texas' Reconstruction. Judge State Supreme Court 1875-76. Governor of Texas 1882-86. Fence-cutting wars, brought on when certain landowners began fencing the open range prompted him to call special Legislature which made fence-cutting a felony. He ruled that State Capitol be of Texas stone. Urged strict enforcement of criminal laws, economy in government, reducing public land sales. Term was marked by opening of University of Texas and first labor disturbances Texas had known. Buried State Cemetery, Austin.
Museum Name: Los Nogales
Mailing Address: P.O. Box 245
City: Seguin
Zip Code: 78156-0245
Street Address: 415 South River
County: Guadalupe
Marker Title: Henry Eustace McCulloch
City: Seguin
County: Guadalupe
Year Marker Erected: 1962
Marker Location: From Seguin take US 90A east about 1.5 miles to Geronimo Cemetery -marker is at fourth entrance on the east side of the driveway.
Marker Text: In this lot lie Henry Eustace McCulloch; Texas Ranging Service 1839-42; Texas Ranger Captain, Mexican War, 1847-48; State Legislator, 1853-59; U.S. Marshal, 1859-61; Colonel, 1st Texas Regiment Mounted Rifles, C.S.A.; Brigadier General, C.S.A. District Commander, Texas Brigade Commander, Vicksburg Campaign. His wife, Jane Isabella Ashby McCulloch Erected by the State of Texas 1962
Museum Name: Sebastopol State Historical Site
Mailing Address: P.O. Box 900
City: Seguin
Zip Code: 78156
Street Address: 704 Zorn Street
Area Code: 210
Phone: 379-4833
County: Guadalupe

Juan Nepomuceno Seguin, from the book
Savage Frontier II, by Stephen L. Moore
Marker Title: Juan Nepomuceno Seguin
City: Seguin
County: Guadalupe
Year Marker Erected: 1978
Marker Location: 205 North River Street, Seguin at City Hall.
Marker Text: (1806-1890) Born in San Fernando de Bexar (San Antonio), son of Erasmo Seguin, whose ancestors came to America about 1700. Juan N. Seguin and his father in 1834 rallied fellow Texans against dictator Santa Anna. Young Juan Seguin raised Mexican-Texan troops, and fought in Siege of Bexar, 1835. He provided horses for soldiers of Col. W. B. Travis, further aiding as a courier during the Siege of the Alamo. Between fall of the Alamo and the Battle of San Jacinto, he led his Co. A, 2nd Regiment, Texas Cavalry, as rear guard for Gen. Sam Houston, protecting the civilians fleeing in front of army of Santa Anna. His men and Moseley Baker's troops held San Felipe, preventing Mexican Army from crossing the Brazos there. Then Seguin's unit joined Gen. Sam Houston's army and fought in the Battle of San Jacinto. In May 1836, Seguin gave military burial to the ashes of the heroes of the Alamo. From 1837 to 1840 he served the Republic of Texas as a Senator. Town of Walnut Springs, on the Guadalupe, changed its name, Feb. 25, 1839, to "Seguin", to honor this hero. Juan N. Seguin married Maria Gertrudis Flores. At his death he was buried in Nuevo Laredo, where his grave is cared for by citizens of City of Seguin. (1970)
Marker Title: Andrew Jackson Sowell
City: Seguin
County: Guadalupe
Year Marker Erected: 1956
Marker Location: From Seguin take US 90A 1.5 miles east to Geronimo Cemetery - marker is in eastern section
Marker Text: Star and Wreath Born in Tennessee 1815; came to Texas about 1829; served in the Army of Texas; a courier from the Alamo, he left the fortress just before it fell to hurry reinforcements and supplies; died about 1882. His wife Lucinda Turner Sowell, born 1827 - died 1883. Erected by the State of Texas 1956.
Marker Title: John N. Sowell
City: Seguin
County: Guadalupe
Year Marker Erected: 1956
Marker Location: From Seguin travel on US 90A east about 1.5 miles to Geronimo Cemetery. Marker is located in east section.
Marker Text: Star and Wreath. Born in Tennessee; came to Texas about 1829. Served in the Army of Texas, 1836; brother of Andrew Jackson Sowell, and son of John Sowell, who participated in the Battle of Gonzales; died in 1858. Erected by the State of Texas 1956.

The following excerpt is from the book, Savage Frontier, by Stephen L. Moore:
Castleman gathered his family and hurried to Gonzales where volunteers were raised for pursuit. Just outside of San Marcos on bluff of Blanco River, April 18th, 1835, Captain Bartlett D. McClure's posse of about thirty men found the murderers. The posse split into two parties, one circling around while the other attacked. John Castleman was among those who killed a few warriors during the advance. Andrew Sowell Sr. was part of the group of volunteers waiting behind the Indians in ambush. His nephew, A. J. Sowell, later wrote:

Asa J.L. Sowell
Several shots were fired, and a third Indian had his bow stick shot in two while in the act of discharging an arrow. Andrew Sowell attempted to fire with a flintlock rifle, but it flashed in the pan. He had stopped up the touch-hole to keep the powder dry in the fog, and had forgotten to take it out. The other Indians now ran back towards the river, yelling loudly. By this time most of the men had gotten clear of the brush and charged with McClure across the open ground.

...Captain McClure's volunteer forces pursued the Indians to the Blanco River, where the fighting became more general. More of the fifty-odd Comanches were killed as they tried to cross the water with their stolen goods. Andrew Sowell shot and killed on Indian as he tried in vain to climb a steep bank on the far side. In the end, they left much of their spoils behind and moved swiftly from the area. The whites chose not to cross the river and continue their pursuit. They were fortunate to have not had any man killed or any serious injuries sustained.
The following excerpt is from the book, Savage Frontier, by Stephen L. Moore:
John Jackson Tumlinson, who had requested the need for a ranger-type system in January 1823, was killed on July 6, 1823, by a band of Indians near the present town of Seguin in the Colorado settlement. Tumlinson and a companion, aide Joseph Newman, had been en route to San Antonio to secure ammunition requested by Moses Morrison's men when he was killed by Karankawa and Huaco Indians.