| | |
| --- | --- |
| Fort Townsend | |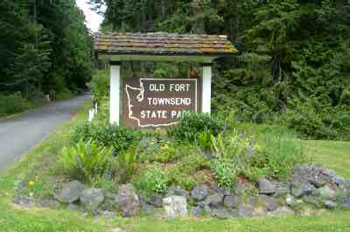 Old Fort Townsend State Park
1370 Old Fort Townsend Road
Port Townsend, WA 98368
e-mail: FWOFTD@parks.wa.gov
Park Ranger: Robert Wiggins
Phone: (360) 385-3595
Call Fort Worden State Park if no one is available: (360) 344-4412
This 367-acre marine camping park features 3,960 feet of saltwater shoreline on Port Townsend Bay. The heavily wooded park has a rich military history dating from pioneer days.
The park consists of slighty more than a third of the orginal Fort Townsend built in 1856 by the U.S. Army for the protection of settlers. Timbers were hewn and laths cut from the forests of the vicinity. The fort was closed between 1859 and 1874 for being "unfit," after an inspection by the commander of the army headquarters in Columbia. Brought back to life in 1874, the fort thrived until 1895 when fire destroyed the barracks. The property was used as an enemy-munitions defusing station during World War II. State Parks took custody of the premises in 1953.
Park Hours
Summer: Open for day use 8 a.m. to dusk.
Winter: Closed to camping Oct. 1, reopens April 1.
The park is open year-round for day use.
Driving Directions
Located on the Olympic Peninsula, four miles south of Port Townsend, Wash.
From SR 20: Approximately two miles south of Port Townsend, turn east on Old Fort Townsend Rd. drive one-half mile to reach the park.
Communities and Related Links