Fort Parker Road Trip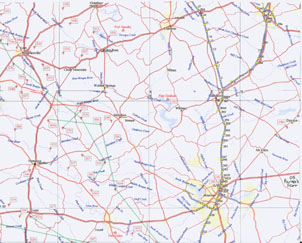 Click on the map to enlarge and bring up accounts of fights and massacres.
The Parker's Fort trip invites a more westernly alternative to I-35W through the beautiful Brazos Valley. Must stops include the fantastic square at Granbury, perhaps the gem of all small town squares, a spectacular array of lodging, dining, camping and golf facilities are available, many encompassing Lake Granbury.
Argueably one of the most beautiful public camp grounds anywhere is located at Tres Rios in Glen Rose right across from the equally impressive Squaw Creek Golf Course. Glen Rose is also home to the tourist attractions Fossil Rim Wildlife Center and Dinosaur Valley State Park.
The destination, Fort Parker State Park, also offers excellent public camping facilities around the magnificently reconstructed replica of the historically important family stockade. This is the site of the beginning of the forty-year Texas/Comanche War.
Don't miss the Texas Ranger Museum at Fort Fisher in Waco, right next to the Brazos River on I-35. Waco seems to be the repository of many culinary traditions most importantly being the home of Dr. Pepper , at least at my last visit, it boasted a Leslie's Fried Chicken Stand and Underwood's Barbecue cafeteria.