| | |
| --- | --- |
| Fort La Clede | |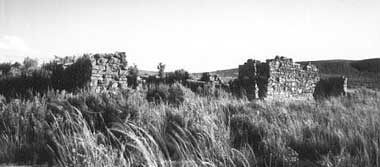 Two sets of ruins remain along Bitter Creek at Fort La Clede; the Stage Station and the Fort itself. About 50 feet to the south of Bitter Creek is the La Clede Stage Station, in operation from 1862 to 1869. The station was constructed of flat slabs of fossilized snail shell sandstone that is prevalent in the near-by hills. The La Clede Stage Station was originally built as a Home Station and later it became a Telegraph Station along the Overland Trail.
On August 25, 1869 four men and a boy, all masked, stopped the stage just west of the La Clede Station and took $42,000 in gold bars and greenbacks. During the confusion of the holdup and getaway, the boy found himself lost. He eventually wandered into a near-by Union Pacific work camp where he confessed. Soon thereafter he joined the lawmen looking for the bandits, and the stolen gold. They unfortunately lost the trail in lava rock, which is so prevelant in the area.
Fort La Clede is the most impressive ruin along Bitter Creek. The post, established in 1863, included barracks, corral and a gun tower. On surrounding hills, gun pits were constructed and maintained. In June 1865 Company B of the 11th Ohio Volunteer Cavalry, then posted to Fort La Clede, skirmished with Indians some two miles east. The soldiers were drawn into an ambush and were rescued by other soldiers, assisted by employees of the Stage Station.
It appears that the two buildings of the Fort were several feet apart. The Fort was constructed of the same type of rock as the La Clede Stage Station, called tortilla, the fossilized remains of a lake bed existing here in the Eocene-Tertiary geologic period fifty-five million years ago. The walls of the Fort consist of a double row of this rock.
Like most forts, this one sits on a higher point of ground so it has a good view of the surrounding country from all sides. The smaller of the two Fort buildings appears to have been approximately one-fourth the size of the larger building. Both buildings are now surrounded by a barbed wire fence.
On all four walls of the remaining buildings at Fort La Clede there are what appear to be gun ports. The openings in the walls are by no means square and were evidently never intended to be fitted with any type of windows. These openings were probably covered with balnkets (or whatever else was handy) to keep out the wind and bitter cold of winter.
About 300 feet away from the remains of the La Clede Stage Station located along the road is an Overland Trail Marker. The ruins of the Fort and the Stage Station are on the south side of Bitter Creek. From the location of the marker, it appears that quite possibly the Overland trail may have been located right between the two buildings at the Fort.
Communities and Related Links