| | |
| --- | --- |
| Fort De Soto | |

3500 Pinellas Bayway S.
Tierra Verde, FL 33715
Park and Campground Office
Phone: 727-582-2267
The largest park within the Pinellas County Park System, this park consists of 1,136 acres made up of five interconnected islands. First opened on December 21, 1962, when the state toll road named the Pinellas Bayway was completed, this park was dedicated May 11, 1963, in perpetuity as a public park. Annual park attendance averages more than 2.7 million visitors.
The 12-inch mortar battery, located at the fort for which the park was named, was listed in the National Register of Historic Places in 1978. Adding to the historical interest at Fort De Soto, two British breech-loading, rapid-fire rifles of 1890 vintage were installed in March 1982. Markers showing the original building locations and a Quartermaster Storehouse Museum add to the park's historic interest.
Fort De Soto Quartermaster Storehouse Museum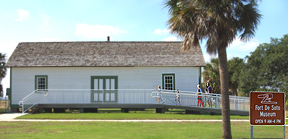 Hours
Open 7 days a week 9 a.m. – 4 p.m.
Admission
Free, but donations are accepted.