| | |
| --- | --- |
| Fort Crawford | |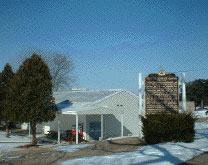 Fort Crawford Museum at Prairie du Chien
717 S. Beaumont Road
P.O. Box 298
Prairie du Chien, WI 53821
Phone: 608-326-6960
Fort Crawford Museum is located on the northwest corner of Beaumont Road and Rice Streets. Two blocks north on Beaumont road is Fort Crawford Cemetery, which has 64 burials from 1829 through 1850.
Fort Crawford Museum is operated by the non-profit Prairie du Chien Historical Society. The museum boasts more than 50 exhibits in 3 buildings, which reflect the historical society's mission to tell the story of Prairie du Chien with emphasis on Fort Crawford, especially the amazing story of Dr. William Beaumont.
The museum is open May through October. Tours are self-guided. A brochure explaining the exhibits is available in the office. Guided group tours are available by appointment. Plan 30 minutes for each of the three buildings.
The museum is wheel chair accessible. Picnic tables on the spacious grounds, fresh water and restrooms are available.
Admission
$4.00 for adults; $3.25 for seniors; $2.25 for children under 12 and $12.00 for a family.
Hours
May, September, October 10 a.m. - 4 p.m.
June, July, August 10 a.m. - 5 p.m.
History
In 1816 just after the War of 1812, the Americans felt that a fort at Prairie du Chien was essential. So Fort Crawford, named for William H. Crawford, Secretary of War, was built on the site of the former Fort Shelby on the mound where the Villa Louis stands today.
In the 1840's Fort Crawford was involved with the removal of the Winnebago from this area, but the frontier had moved faster than anyone predicted. Fort Crawford closed in 1856 and the last US troops left.
Communities and Related Links