| | |
| --- | --- |
| Fort Buford | |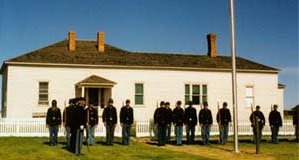 Fort Buford State Historic Site
15349 39th Ln. NW
Williston, ND 58801
Phone: 701-572-9034
email shsbuford@state.nd.us
Fort Buford, located near present-day Williston, was one of a number of military posts established to protect overland and river routes used by immigrants settling the West. While it served an essential role as the sentinel on the northern plains for twenty-nine years, it is probably best remembered as the place where the famous Hunkpapa Sioux leader, Sitting Bull, surrendered in 1881.

Photo of Sitting Bull from the book, Encyclopedia of American Indian Wars, by Jerry Keenan.
On June 15, 1866, soldiers under the command of brevet Lieutenant Colonel William G. Rankin commenced building a new fort in Dakota Territory. It was named after the late Major General John Buford, hero of Gettysburg. By the end of November, the finished fort consisted of a 360-foot-square stockade, enclosing log and adobe buildings, which was constructed to house a single company garrison.
Currently, three original buildings stand at Fort Buford State Historic Site: the stone powder magazine, wood-frame officers' quarters, and a wood-frame officer of the guard building. Inside the officers' quarters is a museum exhibit and interpretive center featuring artifacts and displays about the frontier military and Fort Buford's role in the history of Dakota Territory. A modern restroom and office building and the site supervisor's home are located across the road from the museum. Although the original guardhouse is gone, its "ghost" remains. A metal framework outlines the building showing its original size and shape, while preserving the original foundation.
Communities and Related Links