Rangers
The Texas Rangers were based on the English tradition of the rural sheriff needing to ride or range throughout his territory in order to administer justice and keep the peace. They were further influenced by the Ranger bands formed during the French, Indian and Revolutionary wars. Made up of volunteers (usually Scots/Irish frontiersmen), they specialized in rapidly covering long distances to deliver hard-hitting surprise attacks. The modern U. S. Army still maintains an elite Ranger Corp for this purpose. Descriptions of the Texas Rangers during the Republic:
Noah Smithwick quote:

"So, the government provided for their protection as best it could with the means at its disposal, graciously permitting the citizens to protect themselves by organizing…ranging companies. WPW
Smithwick's description of Tomlinson's Rangers 1823:

"as we are altogether Depending upon hunting for our Subsistence at present it will be but a short time in all probability that what we have will be Expended. I therefore Dispatch two men to St. Antonio to endeavour to procure a supply from the Government Charging the Company with the amount to be deducted from their pay as there is ma[n]y of my men who is destitute of money at present [and] therefore would be unable to procure any [ammunition] from an individual at St. Antonio." CMR
John C. Caperton describes the equipment of early day:

"Each man was armed with a rifle, a pistol, and a knife, and with a Mexican blanket tied behind his saddle, and a small wallet in which he carried his salt and his ammunition, and perhaps a little panoln [sic], or parched corn, spiced and sweetened, a great allayer of thirst, and tobacco, [with these] he was equipped for months; and the little body of men, unencumbered by baggage wagons or pack trains, moved as lightly over the prairie as the Indians did, and lived as they did, without tents, with a saddle for a pillow at night, blankets over them, and their feet to the fire. Depending wholly upon wild game for food, they of course sometimes found a scarcity of it, and suffered the privations which are known to all hunters. Sometimes there was a necessity of killing a horse for food, when all else failed. The men were splendid riders, and used the Mexican saddle, improved somewhat by the Americans, and carried the Mexican riata, made of rawhide, and the lariat, used to rope horses with." WPW
John S. Ford quote:

"Rangers swam by the side of their horses, and guided them. No kind of weather precluded them from crossing rivers. They did so during "northers," and while snow and sleet were falling. The one idea ruled-make a rapid, noiseless march-strike the foe while he was not on the alert-punish him-crush him! With many there was a vengeful spirit to urge them on. Mothers, sisters, fathers, brothers, had been inhumanly butchered and scalped. Loved relatives had been captured, enslaved and outraged, and the memory of the cruel past rose up before the mind's eye, and goaded them into action. They fearlessly plunged into the thickest of the fight, and struck for vengeance. Braver men never pulled a trigger or wielded a blade." WPW
Rangers in colonial Texas formed posses to drive out or exterminate renegade Indian tribes. The Republic organized Ranger Companies to perform this duty but there were several bitter defeats when they first tried to pursue the tribes upon the plains, such as the Battle of Stone Houses. San Antonio and Colorado River Ranger victories expanded the Republic west where Captain Jack Hays led his men, including Big Foot Wallace, deep into Comancheria. East Texas Ranger Companies fought their way up the Trinity and the Brazos, expanding the Republic to the site of modern-day Fort Worth under the treaty of Bird's Fort.
Following statehood, Ranger companies were called into service of the United States in it's war with Mexico,and there are many that credit the victory to the Rangers. The following are descriptions of the Rangers of that period: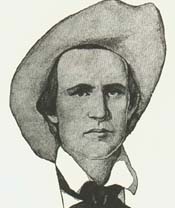 Ben McCullogh
(Photo from the book, The Texas Rangers, by Walter Prescott Webb)
Samuel Reid first impressions of McCullogh's Ranger Company 1846:

Here was a scene worthy of the pencil. Men in groups with long beards and moustaches, dressed in every variety of garment, with one exception, the slouched hat, the unmistakable uniform of a Texas Ranger, and a belt of pistols around their waists, were occupied drying their blankets, cleaning and fixing their guns, and some employed cooking at different fires, while others were grooming their horses. A rougher looking set we never saw. They were without tents, and a miserable shed afforded them the only shelter… Notwithstanding their ferocious and outlaw look, there were among them doctors and lawyers, and many a college graduate. CMR
U. S. Grant's observation of Texas Rangers:

Since we have been in Matamoras [sic] a great many murders have been committed, and what is strange there seems to be but very weak means made use of to prevent frequent repetitions. Some of the volunteers and about all the Texans seem to think it perfectly right to impose upon the people of a conquered City to any extent, and even to murder them where the act can be covered by the dark. And how much they seem to enjoy acts of violence too! CMR
Samuel Reid's noted wryly:

Our orders were most strict not to molest any unarmed Mexican, and if some of the most notorious of these villains were found shot, or hung up in the chaparral, during our visit to Reynoso [sic], the government was charitably found to suppose, that during some fit of remorse and desperation, tortured by conscience for the many evil deed they had committed, they had recklessly laid violent hands upon their own lives! "Quien sabe?" [Who knows?] CMR
Frederick Law Olmsted architect of Central Park in NY Observation of San Antonio Rangers, 1854:

Men and officers were on terms of perfect equality, calling each other by their Christian or nick-names. Their time, when not in actual service, was spent in hunting, riding, and playing cards. The only duty was for four (out of seventy) to stand guard. Men were often absent, without leave, three or four days, without being reprimanded. They fought, when engaged, quite independently, the only order from the commander usually being-"All ready, boys? Go ahead." Their principal occupation has always been Indian fighting, but two or three regiments of them were employed, during the Mexican war, with great advantage, mainly as scouts, pioneers, and foragers. CMR
Fort Worth was built following the U. S. victory over Mexico. Soon 49er's were using Marcy's Trail to reach the California gold mines and new forts were built further west for their protection.
The following is a 49ers description of Fort Worth:

Here were stationed a company of, or companies of, U. S. Cavalry which had recently replaced the discharged, efficient Texas Rangers. Hostile, wild Indians visited the Station almost nightly. They stole animals, shot at the sentries and committed any deviltry their mischievous hands found to do. CMR
The United States built a western line of forts to protect the migrating gold seekers. The soldiers and the action moved one hundred miles west to Fort Belknap, the frontier's new hot spot. Reservations were established for the Indians and the cream of America's military talent rode onto the North Texas frontier with the Second Cavalry. Rip Ford was authorized to form a Ranger batallion to protect the frontier and the Texas Indian Reservations when the Second Cavalry was relocated to Utah. Important Ranger battles were fought at Antelope Hills and the Pease River before Texas joined the Confederates. Captain Barry's Rangers were stretched thin and the frontier suffered devastating Indian attacks including the Elm Creek Raid and Salt Creek Fight. Ranger Companies continued to operate out of Decatur headquarters long after the U. S. Army returned to the frontier. The Indians remained a very dangerous threat as proven by A. J. Sowell's account of his company's 1871 fight at the Keep Ranch. A few years later, Major Jones formed the Ranger's frontier regiment. His company's 1874 defeat at Lost Valley during Lone Wolf's Revenge Raid proved the frontier would remain a dangerous place until the raiding Indians were completely defeated. Jones' found out his men would stay busy just the same.
Jones reports frontier conditions, 1874:

Besides…scouting for Indians, the battalion has rendered much service to the frontier people by breaking up bands of outlaws and desperadoes who had established themselves in these thirty settled Counties [patrolled by the Rangers], where they could depredate upon the property of good citizens, secure from arrest by the ordinary process of law, and by arresting and turning over to the proper civil authorities many cattle and horse thieves, and other fugitives from justice…

Although the force is too small and the appropriation insufficient to give anything like adequate protection to so large a territory, the people seem to think we have rendered valuable service to them, and there is a degree of security felt in the frontier counties, that has not been exhibited [or] experienced for years before. CMR
Wife of Captain Dan Roberts recalls Ranger camp near Menard:

The Rangers required only a few days to prepare quarters for us. About fifty yards from their camp stood a portion of a camp house. It had a shingle roof and a rock floor. It was converted into a kitchen, size twenty feet by twenty feet. Gunny sacks were tacked upon the walls. For our bedroom the Rangers built a room of logs with walls three feet high, on top of which they put a tent. It was provided with a fireplace built of stone. The floor was carpeted with gunny sacks. The kitchen also served as a storeroom. It was all so cozy. CMR
H. H. McConnell Fort Richardson Cavalryman observes Rangers from Jacksboro:

These Rangers were tolerable Indian fighters, but most of their time was occupied in terrorizing the citizens and "taking in the town." Shooting scrapes and rows between citizens, soldiers and Rangers in this year (1874) were so frequent that the long suffering citizens by their votes "incorporated."… CMR
The 1834 appearance of Dodge's dragoons in Comancheria was in the form of a goodwill mission by it's decades long trading partner, the United States. The posting of dragoons in the new state of Texas in the late 1840s did not encite hostilities between the Comanche and the U. S. The introduction of the Second Cavalry in the mid-1850s strained but did not break the Comanches' friendship with what would become the Union in the 1860s. It was Sherman's decision to unleash Mackenzie's Fourth Cavalry in the early 1870s that sealed the fate of the Comanches and their allies.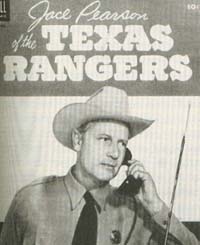 The Texas Rangers were and continue to be an
inspiration for comic book and television dramas.
(Photo from the book, The Men Who Wear The Star, by Charles M. Robinson, III)
CMR=The Men Who Wear the Star by Charles M. Robinson, III
WPW=The Texas Rangers by Walter Prescott Webb